Table of Contents
Introduction
• Define UI, UX, Product Design
• Explain synergistic relationship
• UI Design
Role and Value of UI
• History and evolution
• Best practices
• Case studies
Role and Value of UX
• History and evolution
• Best practices
• Case studies
Product Design
• Role and value of product design
• History and evolution
• Best practices
Working as a Cohesive Team
• Importance of Collaboration
• How to build shared understanding
Conclusion
• Summary and key takeaways
• The future of design
Behind every digital product, there are three forces of magic at play: UI design, UX design, and product design.
UI, UX, and product design are often conflated, but each plays a distinct role in shaping digital experiences.
UI determines how a product looks through visual interfaces and interactions.
UX focuses on how a product works for users by optimizing usability and satisfaction.
Product design connects UI and UX to business strategy and metrics.
Together, these three disciplines create well-rounded products that users love while advancing business goals.
In this piece, we'll dive deep into UI, UX and product design – three circles overlapping each other working in harmony to craft digital experiences with substance, utility and wide impact.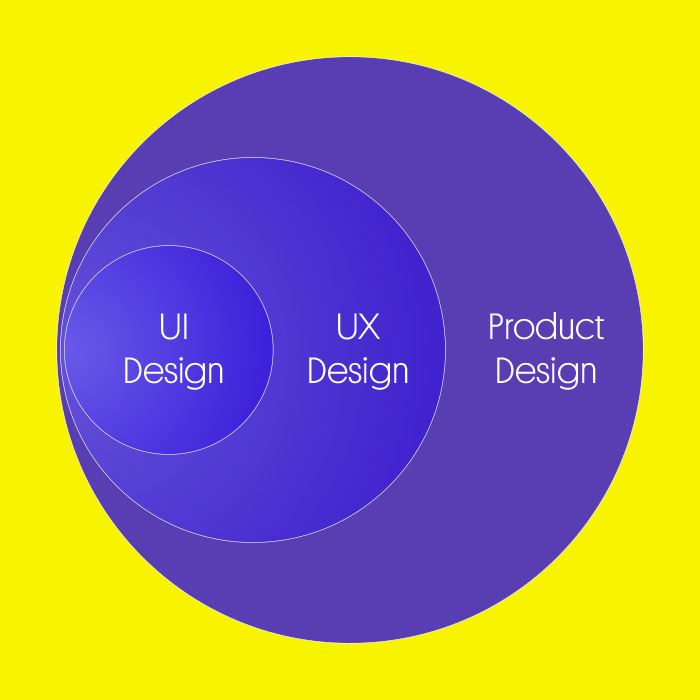 If you are a beginner and want to know the fundamentals of UX and UI – you may like to read this blog- fundamentals of UI and UX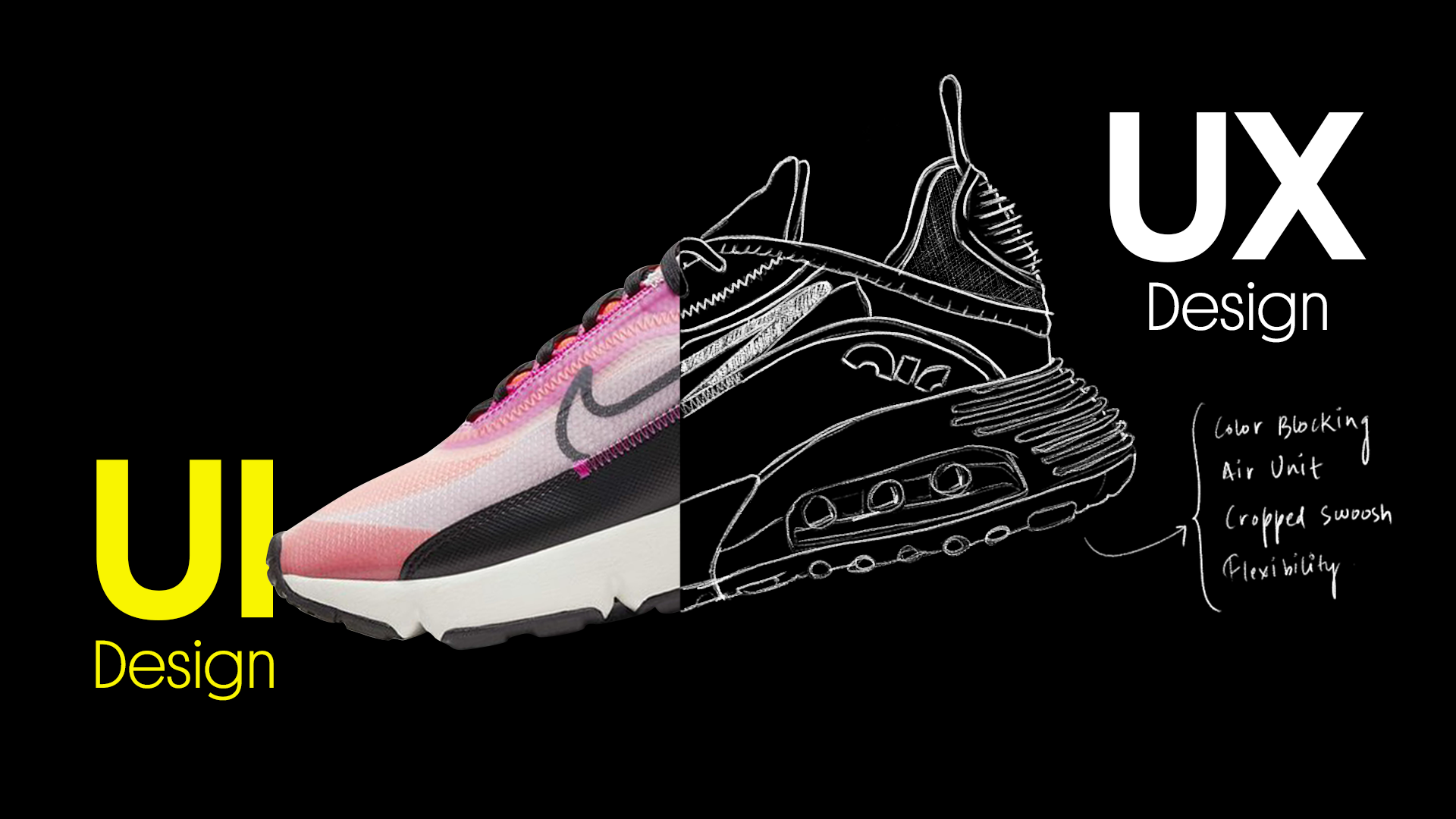 UI Design – The Wizards Crafting Digital Realms
UI (user interface) designers are the architects and builders of the digital worlds we inhabit daily. Their canvas? Every pixel that graces our screens.
Like wizards, UI designers employ tools and tricks to manifest interfaces from imagination into reality. They envision how light and space can converge – how floating windows, buttons, icons, typography, colour, motion, and imagery can transform into a holistic realm with its own natural laws.
Now you understand why even the most pragmatic products require UI designers. Their skills make interfaces come alive with personality.
But UI design runs far deeper than sheer visual appeal. The most potent interfaces seamlessly blend engaging style with utility. No matter how aesthetically pleasing, a capricious interface that confounds users serves no one.
The wizardry of UI designers reveals itself through the design systems they architect. Style guides, component libraries, design templates, and modular architecture keep experiences instinctively consistent across different screens and domains.
The Origins and Evolution of UI Design
The label "user interface design" was coined by Bill Moggridge and Bill Verplank in the 1980s while developing the Xerox Star system. However, rudimentary UI design elements trace back to the 1950s when MIT researchers created graphical user interfaces (GUIs) for radar systems using screens, light pens, and trackballs.
In 1973, Xerox PARC refined the GUI with the Xerox Alto's desktop metaphor, icons, and zoomable windows – laying the foundations for modern UI. Apple brought GUIs mainstream with the Lisa and Macintosh computers in the early 80s. Microsoft soon followed with Windows.
Over the decades, UI design practices matured with:
Cognitive science revealing how users process visual interfaces.
New disciplines like information architecture and interaction design.
Reliance on wireframing and prototyping before coding.
The advent of design collaboration tools like Figma and InVision.
Frameworks like Atomic Design and methodologies like design sprints.
Today, UI design skills are higher in demand than ever. As digital penetration increases, products compete fiercely for the quality of their interfaces. Users have come to expect intuitive navigation, responsive performance, and personality even from everyday tools and services.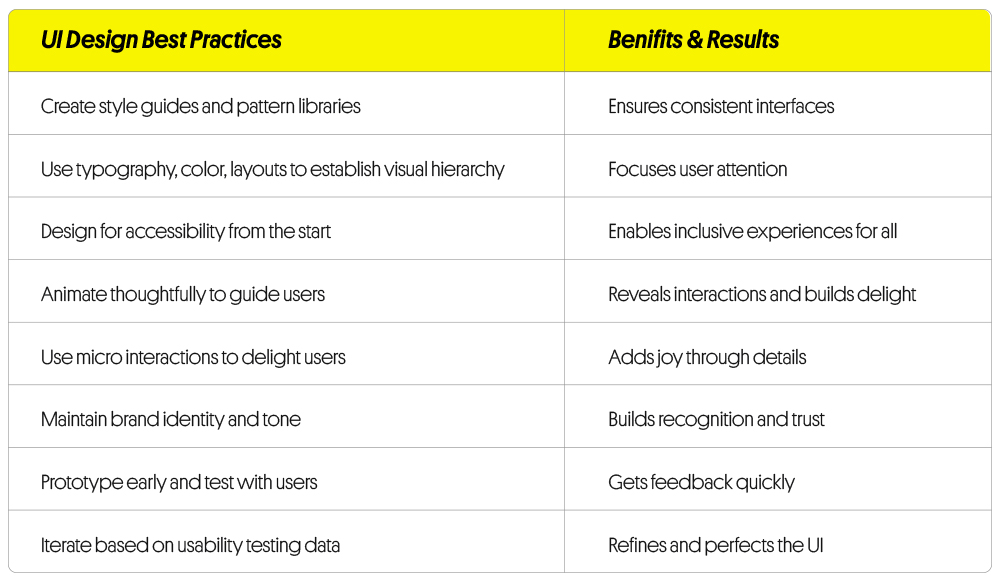 By following proven best practices, UI designers increase their chances of crafting interfaces that feel like second nature yet slay with stylistic flair.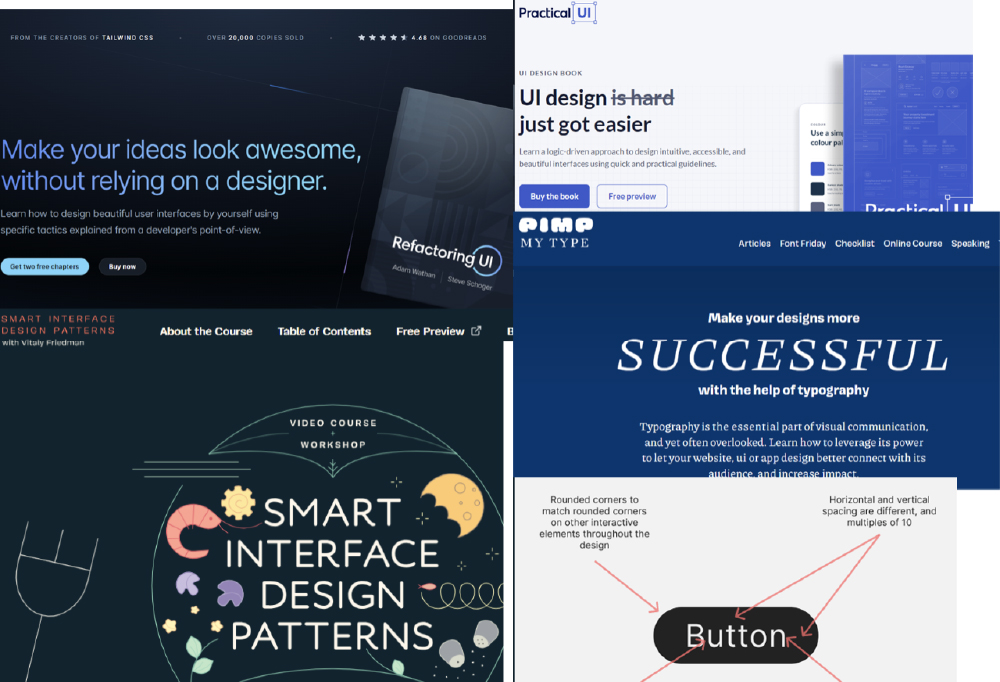 5 unique resources for any Interface designer
Some case studies that wow us:

1. Reimagining Finance Apps: Monzo's Engaging Mobile Banking
Background:
Banking apps have traditionally prioritized functionality over innovative UI design. UK challenger bank Monzo sought to disrupt personal finance with a visually engaging, intuitive mobile banking experience.
Solution:
Monzo crafted a bold, playful visual language that rethinks banking UI conventions:
Vibrant gradient colours distinguish accounts and cards
Animated transactions bring activity to life
Whimsical micro interactions surprise and delight
Custom illustrations guide users through flows
Responsive layout adapts across mobile and web
This humanizes complex finance tools through accessible, understandable UI metaphors.
Impact:
Monzo's delightful UI helped them rapidly gain over 5 million customers. Their interface design lowered barriers to personal finance management, especially for younger demographics. Surveys show industry-leading user satisfaction and retention.
Monzo's success demonstrates the power of reimagining UI design in legacy categories like banking. Their interface keeps utility while injecting personality and emotion to drive adoption.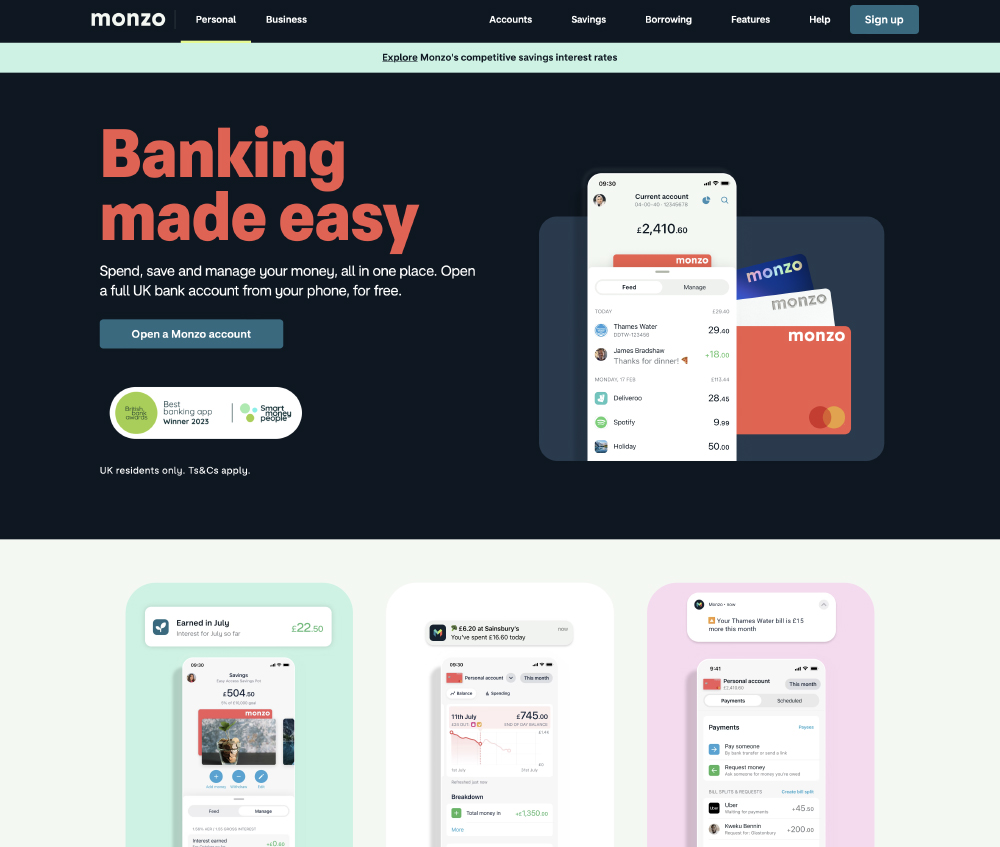 Monzo
2. Reimagining Recruitment Agency UI: Optima Europe's Bespoke Revamp
Background:
Optima Europe, an international recruitment agency, had an outdated website that felt cluttered and chaotic. The crowded UI with haphazard colours didn't reflect their premium brand. They wanted a polished bespoke look to better serve B2B customers.
Solution:
Optima Europe underwent a top-to-bottom UI overhaul for a sleek corporate feel:
Clean, sophisticated landing page with an introductory video
Clean navigation and whitespace to guide focus
Visuals and icons to summarize their achievement

 

Choice of imagery to humanize their services and give a sense of confidence and trust
Responsive design for desktop and mobile
Through refinement of colour, space, typography, and content, Optima's new UI better conveys their commitment to an exceptional recruitment experience.
Results:
The redesigned UI tripled Optima's website traffic. Time spent on site increased as visitors easily accessed information. The polished bespoke interface aligned with Optima's brand promise and B2B target audience. Prospects converted to clients at a higher rate thanks to the strategic UI revamp.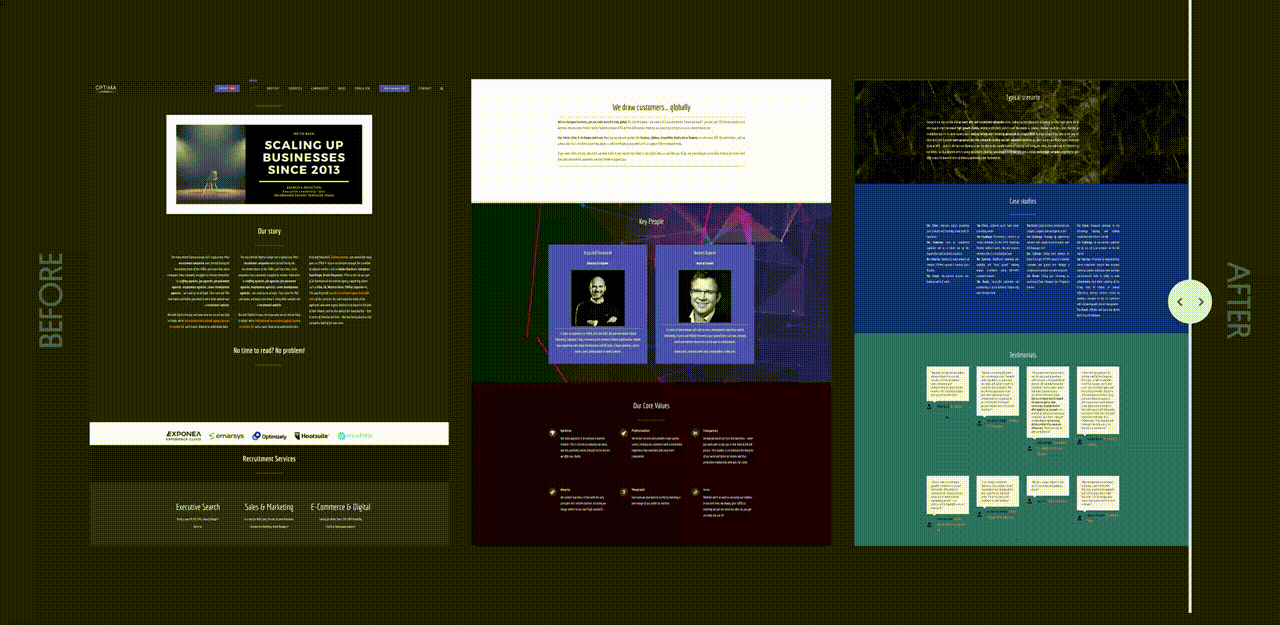 3. Crafting Immersive Realities: Valve's SteamVR UI
Background:
VR poses new UI challenges as traditional screens are replaced by 3D environments. Valve's SteamVR platform needed an interface paradigm optimized for spatial computing.
Solution:
Valve developed Skeletron – an adaptive radial UI system for VR spatial interfaces. Key innovations include:
Contextual radial menus for easy access to functions
Avatar hand presence for natural spatial interactions
Seamless UI integration into 3D environments
Adaptive components tailored to VR controllers
Intuitive gestures like pointing, grabbing and swiping
This ground-up spatial UI language enables seamless control in VR versus obtrusive traditional UI elements.
Results:
Skeletron provides an ideal VR interface solution – accessible yet disappears into the experience. The UI feels like a natural extension of the user's virtual body. Reviewers praise SteamVR's best-in-class spatial interfaces.
By rethinking UI mechanics, Valve created more immersive and intuitive VR experiences. Skeletron shows how reinventing interfaces unlocks new realities.

But even the most polished UI lacks soul without its counterpart.
UX Design – The Psychologists of Digital Realms
If UI designers architect the digital world, UX designers decode the people inhabiting it. They unravel what users want, need, and dream of.
Like researchers or psychologists, UX designers explore personas, map journeys, and unlock insights through interviews, observations, surveys, and analytics. They uncover hidden snags and opportunities in user flows.
With almost clairvoyant abilities, UX designers understand how the tiniest tweak can have an outsized impact. An extra click deflates. A thoughtful confirmation motivates. They remove mental stumbling blocks across the user journey.
Truly thoughtful UX feels almost magical as if the app reads your intentions. In reality, rigorous UX design unveils those intentions through user data before launch. Perfect alignment of business goals and user satisfaction comes from resolving pain points.
By standing in the shoes of users, UX designers become champions of their needs. They guide products to fulfil their purpose and potential through empathetic design. Where UI grants style and polish, UX provides substance and soul.
The Origins and Evolution of UX Design
The term "user experience design" was popularized in the mid-1990s by Donald Norman, who also coined the term "user-centred design." However, UX principles trace back earlier to fields like human factors engineering, ergonomics, and cognitive psychology.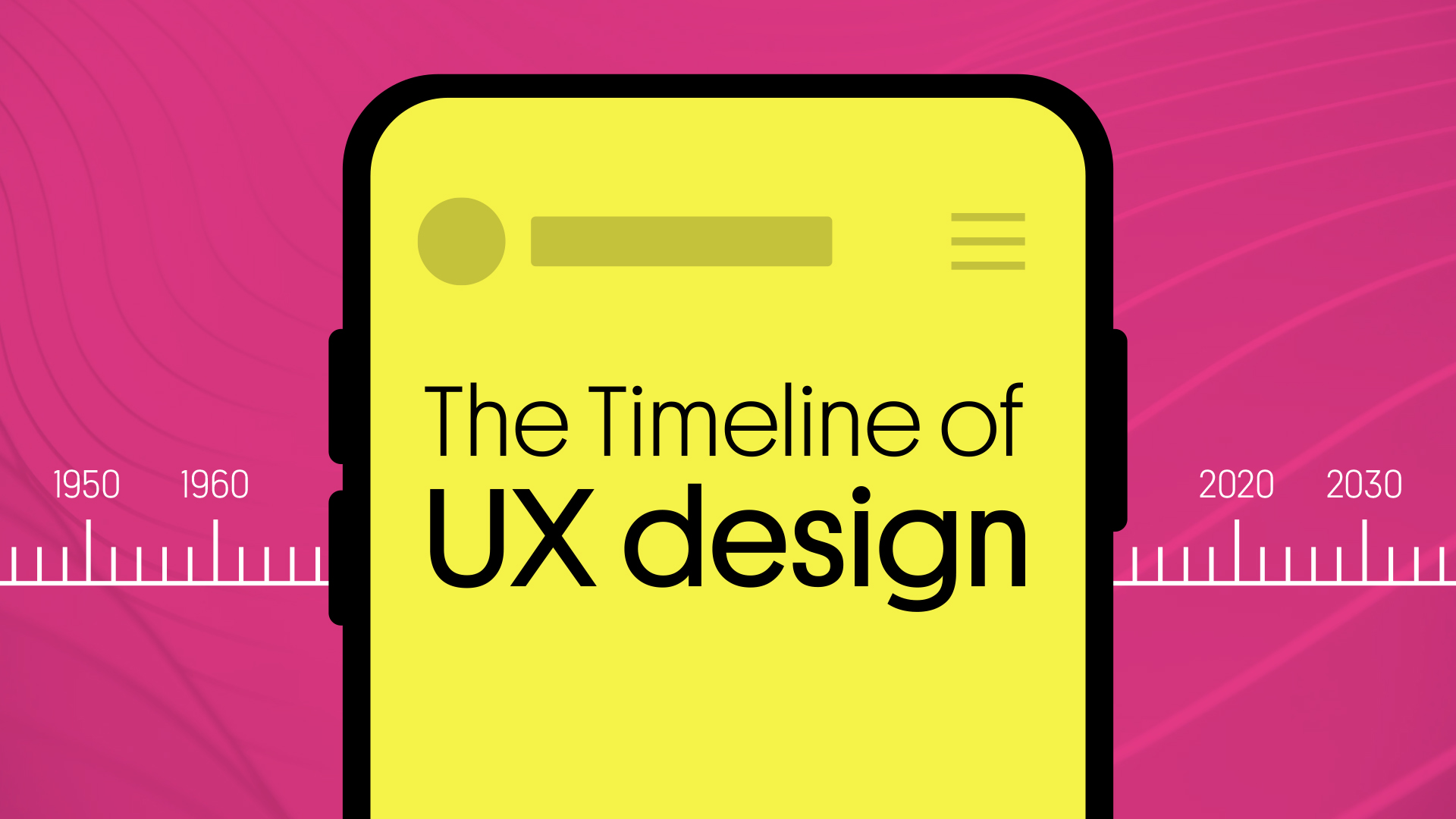 The timeline of UX design
Key developments that propelled UX design include:
Research methods like ethnography and contextual inquiry
The rise of web usability in the 90s
Personas informing design decisions
DesignOps formalizing UX workflows in the 2000s
Mobile and multi-device expanding the scope of UX
Big data and analytics revealing behavioural insights
Today UX design sits centre stage given its proven ability to guide businesses in understanding their customers on a profound level.
By doubling down on understanding users, UX designers conjure the seemingly impossible – interfaces that feel tailor-made to meet needs and ease frustrations.
In order to be a better designer you can follow these 4 tips by Marina Krutchinsky (VP of UX Design at JPMorgan Chase):
Journal lessons and insights.
Map user scenarios and journeys.
Learn behavioural economics

 

Talk to non-designers.
Some case studies that wow us

1. Enhancing Accessibility: Microsoft Seeing AI App
Background:
There are over 285 million visually impaired people worldwide. Yet the majority of apps fail to provide accessible interfaces for blind users. Microsoft sought to create an AI-powered app to address common pain points for people with blindness or low vision.
Solution:
Microsoft Seeing AI uses advanced computer vision and narration to audibly describe people, text, objects, and environments. Key features include:
Short Text – It speaks signage, documents, and labels aloud
Productivity – scans barcodes, currency, recognizes colours
People – describe facial expressions, age, and gender of people
Scene – explains general environment like lighting and layout
The UI provides:
Clean, high-contrast visual design
Intuitive horizontal menu navigation
Shortcuts are configurable based on frequency of use
Customizable controls like speech rate and volume
By optimizing for screen reader accessibility from the start, Seeing AI removes barriers to mobile technology for blind users.
Impact:
Seeing AI has been life-changing for many in the visually impaired community. It brings convenience, independence, and visual information through an interface purpose-built for their needs. With over 5 million downloads, the app shows that inclusive UX design also makes business sense by serving underserved communities.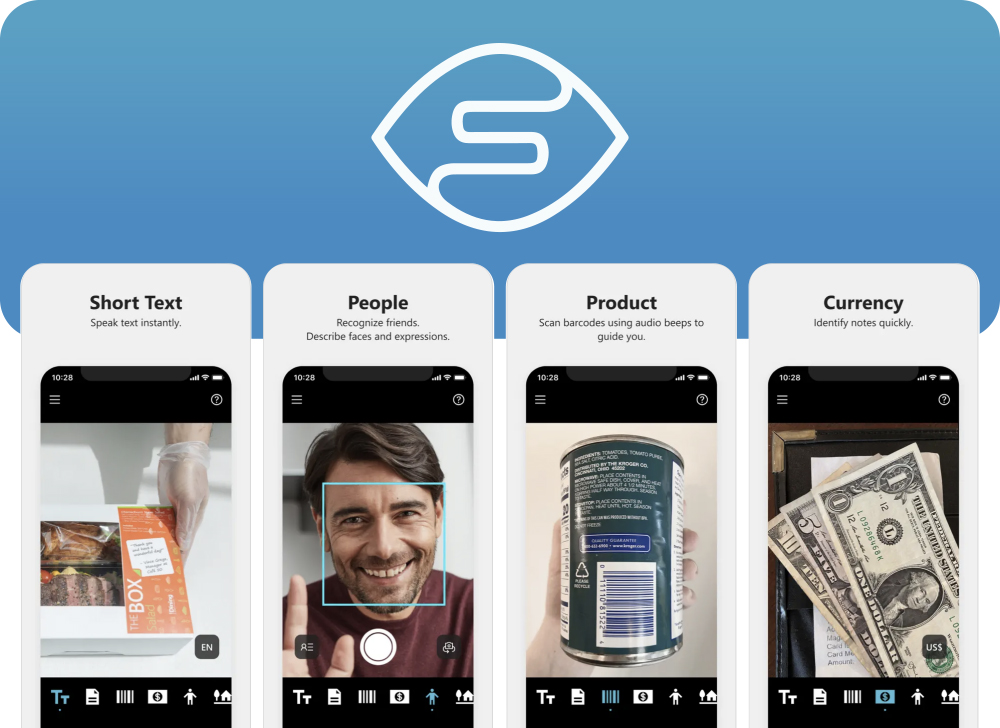 2. Blind and low-vision customers face challenges shopping for clothing without being able to independently identify items. Typical tags lack identifiers that screen readers can detect. Tommy Hilfiger sought to make their apparel shopping experience more inclusive through improved tag design. Here is an example of UX in the tangible space.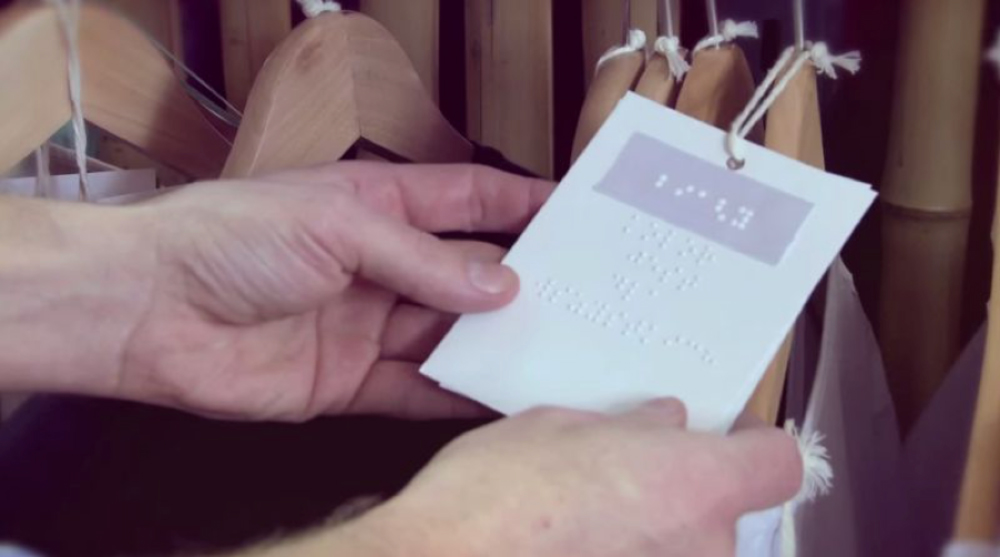 But even the sublimely usable product lacks purpose without product design.
3. Creating a New Paradigm for Human-Computer Interaction: Humane's Super Senses UX
Background:
Humane is a company that aims to create a new paradigm for human-computer interaction, where technology adapts to people, not the other way around. Humane believes that technology should augment human senses and abilities, not distract or diminish them.
Solution:
Humane designed a novel UX that leverages AI, haptics, and spatial audio to create immersive and intuitive experiences. Humane's super senses UX enables users to:
Feel the world around them through subtle vibrations and gestures
Hear the world in 3D through spatial audio and voice control
See the world in new ways through augmented reality and computer vision
Learn from the world through personalized and contextual feedback
Connect with the world through seamless and secure communication
Humane's super senses UX is powered by a wearable device that connects to a cloud platform. The device is designed to be comfortable, discreet, and adaptable. The cloud platform is designed to be scalable, secure, and intelligent.
Results:
Presently they have raised more than $240 Million dollar and are in the research & and development stage.
In testing, Humane's super senses UX enhanced users' perception and interaction with the world. The UX was praised for being natural, engaging, and empowering. Users reported feeling more aware, curious, and connected.
By reimagining human-computer interaction, Humane showed the potential of technology to enrich human lives.
Product Design – The Visionaries Connecting Dots
Behind all great digital experiences, you'll find product designers analyzing the big picture and connecting the dots – quite literally, between UI mockups and UX user flows on their wall-sized vision boards.
Product designers excel in zoomed-out thinking. While UI and UX designers tunnel deep into details, product designers keep an eye on the industry horizon, tracking markets, technology, and competitive forces.
True magic happens when product designers integrate business aspirations with user insights. They rally teams around a guiding star – a vision to boldly fulfil. They ask "Where do we go?" and "Why will users care?" before determining solutions.
Like a DJ effortlessly transitioning songs, product designers blend business goals, user feedback, and technical constraints into one seamless experience. They prevent chaos by defining priorities that focus team efforts.
The product designer's core strength is wholly integrating user wants, brand promises, and revenue goals. By connecting all these threads, they weave digital products that feel not just useful, but part of our social fabric.
The Origins and Evolution of Product Design
Product design as a discipline arose from the need to align technology-driven offerings with genuine user demand. Fast Company traces its roots to pioneers like George Stigler's economic theory of information failures and regulatory capture in the 1960s.
Advancements in product design include:
Lean methodologies minimizing waste by validating concepts quickly
Focus on continuous delivery and learning after version 1.0 launches
Growth tactics adapting offerings based on usage data
Agile processes breaking priorities into manageable increments
AI-assisted generation of product concept variants
Now product design sits at the intersection of business strategy, technology, and customer obsession – an invaluable yet complex role.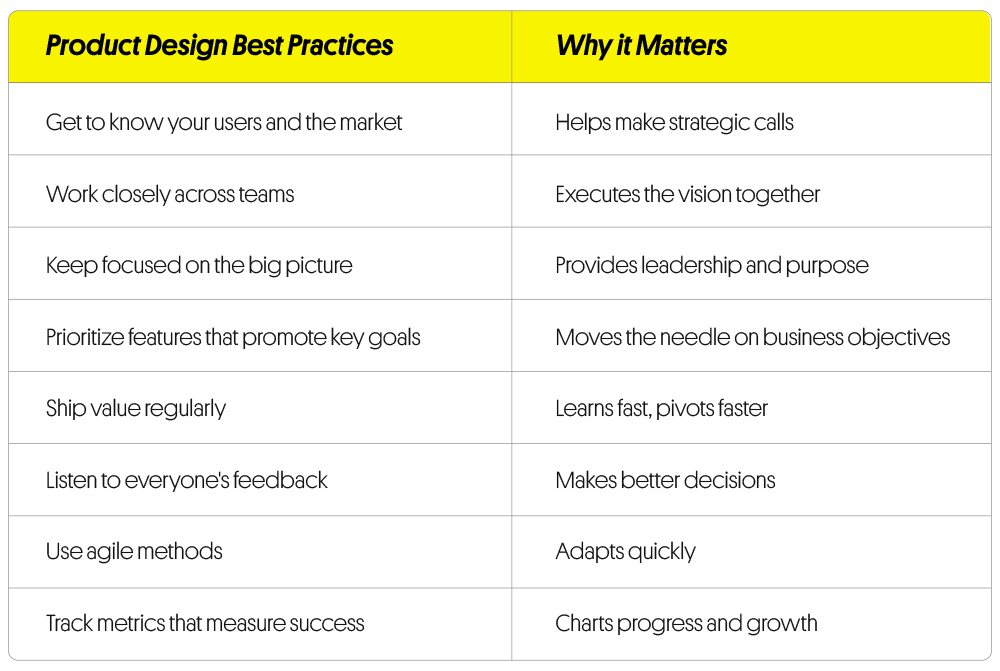 When following proven practices, product designers increase their odds of building digital products that seamlessly merge user satisfaction and business success.
Building a Super Team of Designers
Imagine if Hogwarts Houses didn't collaborate. They'd be much less effective!
Similarly, design teams should nurture trust and transparency. This allows them to create great products together.
Some key ways:
Product managers share strategy so everyone aligns.
UI designers show style guides for design consistency.
UX researchers spread user insights to inform solutions.
All team members should give constructive feedback:
UI suggests accessibility improvements
UX identifies confusing workflows
Product notes gaps between vision and execution
With shared goals and open communication, designers can achieve more. Focus on teamwork, not egos. Value each role's perspective.
In simple terms:
Share strategy and findings across specialities
Maintain consistent user experiences
Guide solutions with real user insights
Give and receive constructive feedback
Collaborate, don't compete. Listen and learn.
Here is a case study to learn from:
Reimagining Online Learning: How Coursera Evolved Through Product Design
Background:
Coursera pioneered opening online education from top universities to the public for free. But as learner needs to be shifted, Coursera needed to expand its product model.
Approach:
Coursera's product team conducted extensive research to understand changing learner and university partner needs:
Interviews and surveys with consumers uncovered a desire for credentials and career advancement
University partners required new monetization models as free courses became costly
Competitor benchmarking showed paid certificate offerings gaining traction
In response, Coursera launched a series of new products:
Paid certificates for course completion
Fee-based Specializations clustering courses by skill topic
Enterprise platform for companies to upskill employees
Impact:
The products generated $140 million (2019) 46% increase from 2018 in new revenue streams within a year, unlocking a sustainable education model. Learners gained valued credentials. University partners reduced costs while still serving students worldwide.
By maintaining a broad view of all stakeholders, Coursera's product design supported tremendous impact – from individual opportunity to institutional partnerships


The Future Looks Bright
Take heart, curious reader. The mystics and pros shaping digital realms behind the scenes continue unlocking new powers.
UX mages wield data to shrink decision uncertainty and rapidly iterate. UI sorcerers utilize component systems to sustainably scale designs. Product seers manifest strategic visions through cross-functional collaboration.
United, their spells and rituals craft experiences delivering utility, meaning, and wonder. These forces now propel products forward. Their incantations make interfaces feel like intuitive extensions of our lives.
So next time an app, website, or device evokes frustration, remember the wizards behind it labour to fulfil goals on all sides – yours and business aims alike. Then maybe some magic transpires – your blood pressure lowers as compassion enters your heart.
Design's mystic arts advance rapidly. And we all gain from its powers applied benevolently. Our shared journey is only beginning. The future looks bright.
Concluding Thoughts
This guide illustrated how UI, UX and product design (while distinct in focus) – must weave together to craft products users love. Steadily rising user expectations will continue pushing designers to deepen their expertise while broadening collaborative skills. However, businesses that obsess over customer experience ultimately win. The future looks bright for teams that synergize design specialities in service of users.