Palette69 was founded by Sudipto, Pravanjan, and Leeshant in 2015. A design agency that specialises in both digital and physical experiences. Our seasoned designers believe in bringing out an elevated aesthetic in the work we deliver. We believe "Design is the most beautiful language of expression" and our work embodies this belief.
Hit the link to know more about our journey.
One prominent setback arrived in 2020 in the form of the COVID-19 virus, much like the Hero's Journey isn't complete without a final obstacle. Palette69, however, managed to endure, unlike many other businesses. Our team along with a global network of independent creators worked tirelessly to ensure timely delivery of work . We were able to endure the epidemic thanks to our unconventional operational methods, perseverance, and steadfast dedication to their purpose.
Today, the company is recognised as a leader in the fields of video production, virtual reality, augmented reality, nudges, and gamified websites.
Awards and recognitions 
We were moved the first time when the publication "The Enterprise World" recognised Palette69 as India's leading creative studio for the year 2020.
We also take immense pride while mentioning that our company was nominated for the India 500 Startup Award.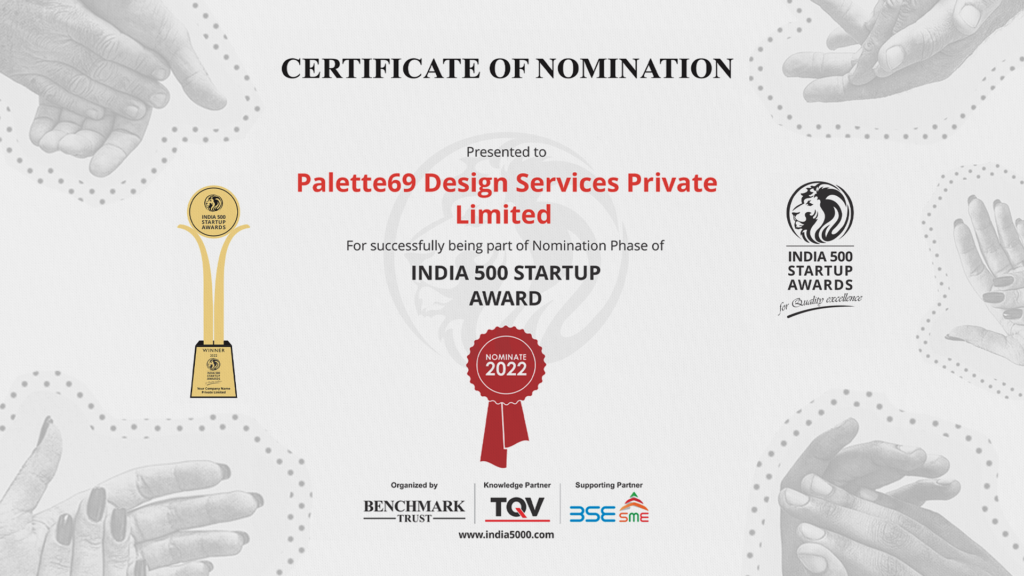 If this alone wasn't enough to push us to work harder, Clutch: Best Creative Business Awards 2022 recognised our company as one of the most successful creative organisations in India.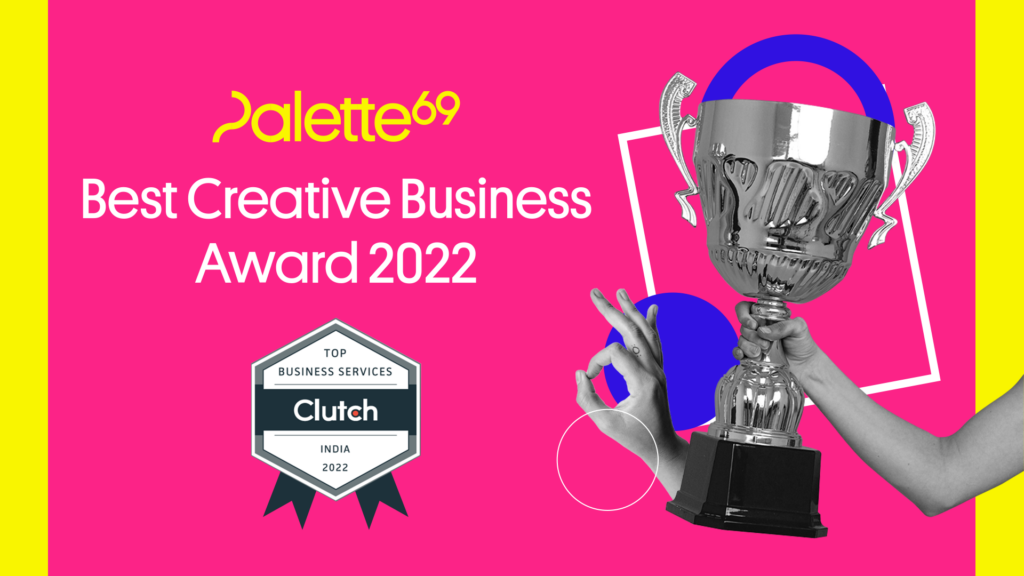 We don't set out to win awards. But when you receive an award, it's an affirmation: it means that people appreciate what you do. As a result of each honour, we're inspired to work harder to achieve incredible things.
Our Accomplishments
We believe that the difference between ordinary and extraordinary is that little extra. Don't you?
We have been associated with the Indian Institute of Technology (IIT) Delhi as their knowledge partner. Along with that, we actively participated in MESC(Media & Entertainment Skills Council) and NSDC (National skill development corporation) India. That brings us to our collaboration with MESC India, through which we aim to focus on helping youth in the entertainment business acquire varied talents and gain the exposure they need. Our Creative Director Pravanjan Patnaik served as a member of the jury for the "DigitalArt4Climate" competition in the UI & UX category for digital assets marketplaces, the competition that was held in association with the United Nations.
We love our interaction with the youth. It really helps us offer insightful experiences and gain fresh perspectives in return. At MIT Institute of Design (Pune) and IIT Delhi, we ran sessions with students on design explorations, VR/AR, and NFTs, while at NID (Bangalore), we conducted gaming sessions.
Be a part of our journey
We aim to solve quintessential problems with the most creative approach. Apart from providing creative solutions to various brands and organizations, our solutions are also directed at the world, to the myriad niches that form our ecosystem. We are constantly evolving and exploring with an unhinged focus on creating a positive impact on the world through design.
And now, we would love for you to join us on our journey.
Feel free to reach out to us to know more about our services or to get in touch with our team. We would be delighted to address any questions that cross your mind.
Cheers!